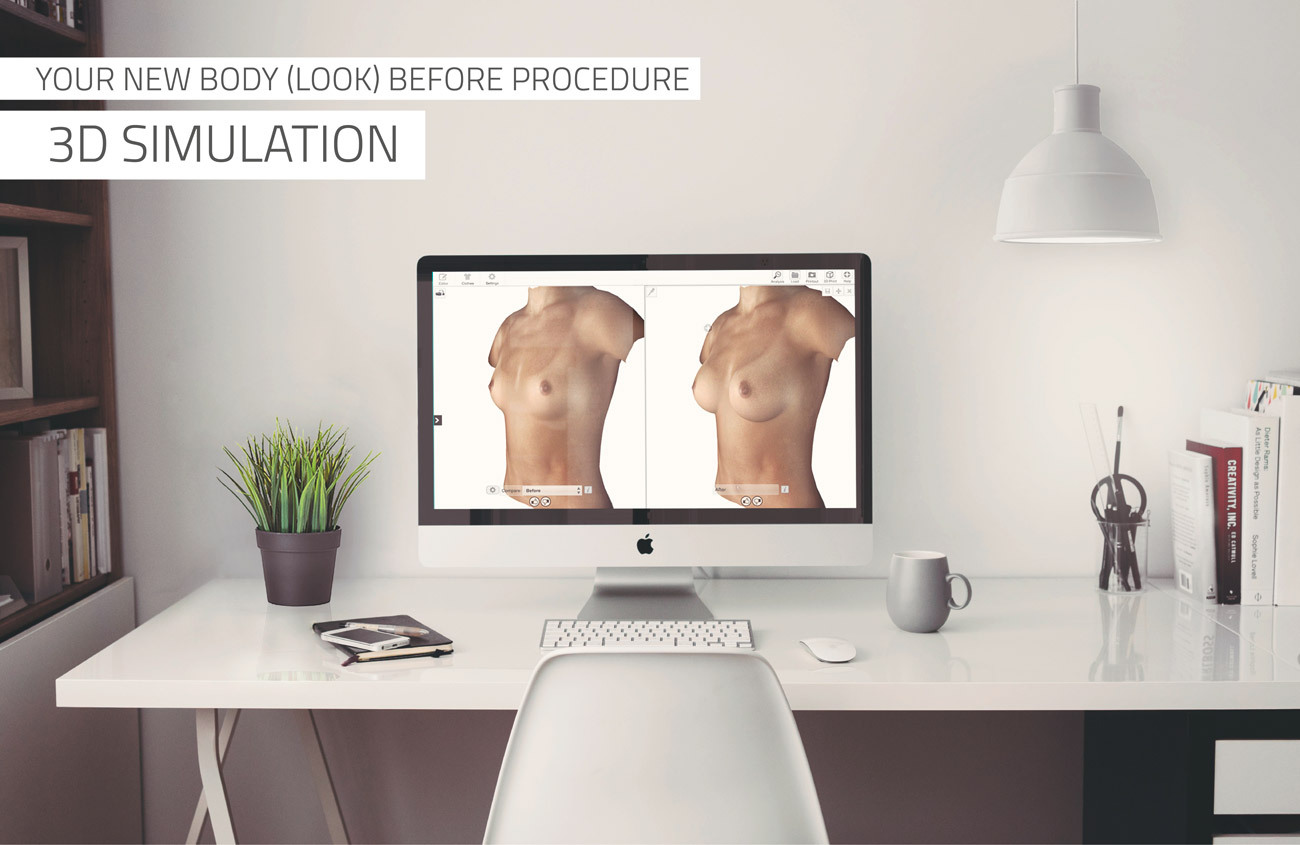 How will my breasts look after surgery?
Will be chosen shape and type of implants perfect for my body type? What type of breast implant should I choose? Which implants match best with my desired results? How will rhinoplasty (nose surgery) change my face? Would I be satisfied with the results of liposuction or Brazilian butt lift?
Nowadays Plastic Surgeons can use unique 3D simulation technology, that significantly increases communicating with patients. With the use of an iPad, we are now able to capture an image of the patient, make the 3D model of her body, and show her what she would look like after procedure. Giving surgeon an ability to understand patients expectations and offering active participation of the patient in the consultation. Before and after image helps a lot to get a good idea of what a certain volume will do to your body. 3D image says more then a thousand words and 3D simulation is nowadays widely used with great success.
How it works?
The consultant will scan your body with an iPad with a special sensor and a few seconds later your own three dimensional body image will appear on screen. We can simulate many surgical procedures. With few clicks you will be able to change:
• various types of breast implants available, their position and different surgical placements of breast implants
• shape and size of the breast, reduction of areolas, the appearance (position) of the scars
• reshape and resize particular parts of nose, lift face, augment cheeks or lips, reduce wrinkles on the skin, contour neck and reshape chin
• reshape various parts of the body by permanently removing or adding volume of fat
…and much more.
The patient is able to see a before and after image from different perspectives (left, center and right side).
After the consultation the patient will receive an email with a link. With this link, the patient can again look at the 3D image at home, from the pc, laptop or directly on the smartphone, and share it with people they trust.
Of course, exact result of the actual surgery depends on several factors which vary between individuals in biological characteristics, but with mobile 3D imaging we can communicate a lot easier with our patients and be sure that we fully understand what they would like to accomplish and fully understood their wishes.
With unique 3D simulation technology anyone interested in facial aesthetics or breast augmentation can see their new appearance. Choose the most appropriate breast implants for your desired outcome. Rejuvenate your skin and decide whether liposuction is right for you? If you are considering plastic surgery make the decision in the trusted environment of your home, think about it thoroughly and share it with your partner or close friends.
Schedule a consultation
E-mail: [email protected]
Telephone: +386 31 208 106 (from 11:00 to 19:00)